In this article, we will go over the steps to send a link for Doctor's approval on a specific case.
After the design of your case is completed, you have the option to send a link for approval to the Doctor in charge of the case


How to send Doctor link

1. Go to the 3Shape Design Service Portal and Sign in!

2. Click on the "Needs Approval" folder and click on the order ID of the case that you want to send the link for approval.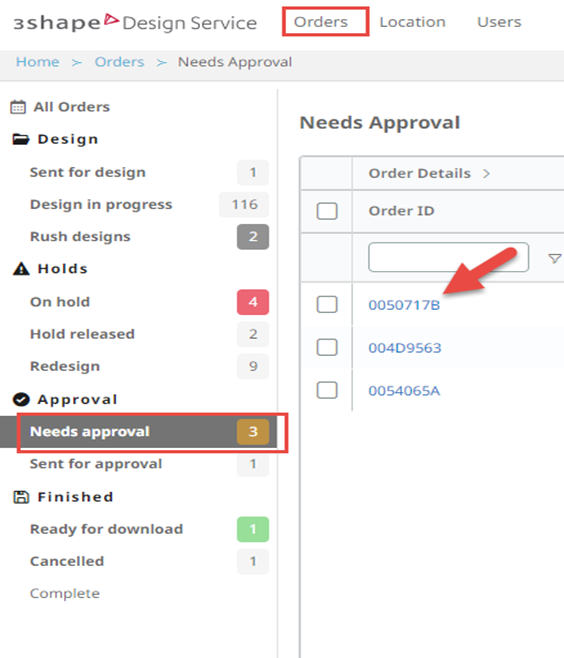 3. Once the case is opened, click on the "Actions" button, and from the drop-down menu click on the option: "Review case".

4. On this screen, at the bottom please click the Actions button and choose the option "Send Doctor Link".




You will have two options:


1. Send the link directly from the Design Service Platform.
Note: Please take into consideration that the email will include the 3Shape Design Service logo.
To have 3Shape Design Service send a notification, enter the email address of the approving Doctor for this case and click "Send".



2. Forward the link yourself in your preferred way.
Click "Generate Link" for a URL that you can forward as needed.

Once the link is sent, the status of the case will change to "Sent for Approval" until the Doctor can access and approve the case.

The Doctor will also have the option to request a redesign from the same link so we can make the necessary adjustments if needed.


Please review the following link if you need some guidance in how to send a case for Redesign:
https://support.fullcontour.com/hc/en-us/articles/360007548812-How-to-submit-a-case-for-redesign



For further questions or assistance please contact support by phone, chat, or email us at designservices@3shape.com