In this article, we will go over the 'Location' tab and explain the features and information within the tab.
The 'Location' tab is located at the top left of the screen once logged into your 3Shape Design Service account:

Within this tab, you will find different sections on the left-hand side: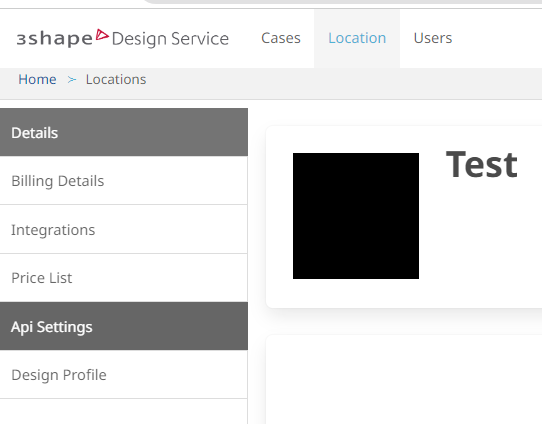 Details:
In the first section, you can edit the location. You can do this by clicking on the Edit icon at the top right of your page.

In this section, you will be able to edit your basic info, lab address, and default turnaround time. 
Billing Details:
In the Billing Details section, it will show any info your accounting department will need.
Under billing contacts, you should have whoever is in charge of your accounting department added here to receive emails when invoices are available. To add the contact click + New Billing Contact off to the right and fill out the form.

Important: (Please note that adding a billing contact here doesn't create them as a user on the account, they would need to be set up as a User to have access to the platform) 
Having this person here will also help us out when we need to reach out about billing.


In this same section, there is a tab called Add Payment Method - this is where you are able to Add your credit card to the account.  To add your credit card, click +Add Payment Method. Fill out the form completely and make sure the billing address matches the address you have on file with the card company. Click Create. Once this is set up you will be good to go to send orders. We are not able to take credit card information over the phone.

Price list:
Then, from the left side menu, look for the "Price List" section. 

You should now be able to view your account's price list. 


 See the following image as a reference: 
 





Consider that, for some design types we have three different prices, this depends on the turnaround time (upper row) that you want to choose. 
Design Profile:

On the Design Profile, you can add General Instructions, create Design Guide Groups and manage the Design Guide Codes for all the cases you are sending to us. In this way, we make sure that our designers get a better understating of how your orders must be executed.


If you haven't set up your Design Guide Groups yet, please check this article:
https://support.fullcontour.com/hc/en-us/articles/16938981706395-3Shape-Design-Service-Platform-How-To-Manage-Your-Design-Guide-Groups


If you haven't set up your Design Preferences yet, please check this article:
https://support.fullcontour.com/hc/en-us/articles/16938924579227-3Shape-Design-Service-Platform-How-To-Manage-Your-Design-Preferences


If you haven't set up your Design Guide Codes yet, please check this article: https://support.fullcontour.com/hc/en-us/articles/16938775490587-3Shape-Design-Service-Platform-How-To-Manage-Your-Design-Guide-Codes