In this article, we will go over what Digital Dentures are and the benefits involved
Digital dentures are designed by software and are proven to be better for the patient. Here at FullContour, we use 3shape design software. With digital dentures, it allows us to know the exact vertical dimension, where to place the teeth to accommodate the class of bite within the residual ridges.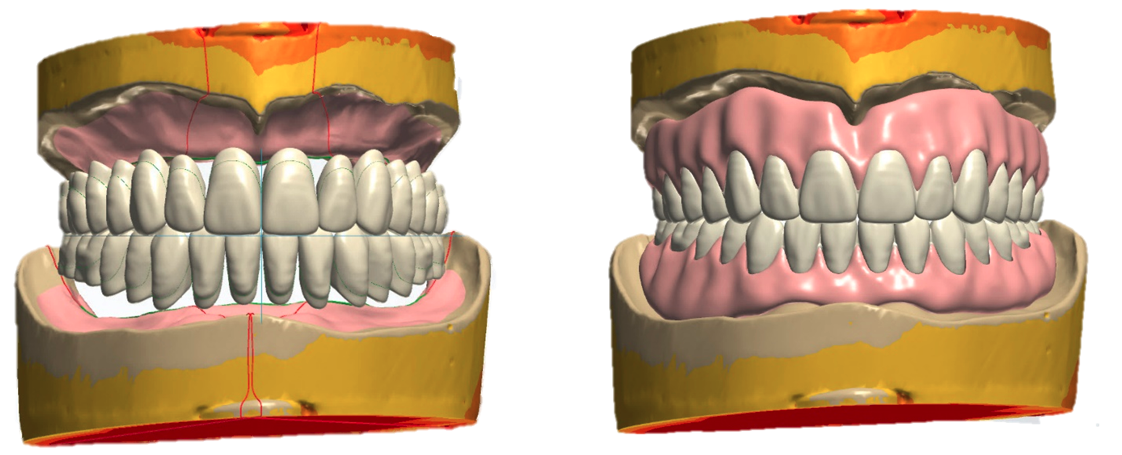 Digital dentures have proven to be more comfortable than traditional dentures because of the exact fit. The issue with traditional dentures is that shrinkage and warping happen when producing a traditionally made denture. That is not a part of the process of manufacturing a digital denture. The fit when manufactured correctly, is so exact to the impression that digital dentures don't need a post palatal seal to compensate for poor fitting surfaces.

Upper traditional denture 3 in relation to its model Upper 3 CAD file sent to the printer in relation to its model
(Credit of Colour Mapping Data: Sean Joseph Dillon)
Please email Customer Support at support@fullcontour or Chat with us for any further questions!