In this article, we will go over how to add a model to an Implant Plan/Surgical Guide case.
We now offer model design along with your Implant planning and Surgical guides. To add the model option to your case, submit the case to the 3Shape Design Service Platform as you normally would:
Enter the name of the patient or pan/chart number in the name field
Enter the brand of the implant and if the guide should be fully guided or pilot guided, and if requesting a Bone Supported Guide, indicate that as well in the instructions field
Click on the Teeth# button to select the sites the implants should be placed
Click on the Modifier button to select a consultation if desired. There you will also see a new option; Model for Implant Planning.

Click the drop-down arrow and select Model for Implant Planning and close to add the model to the case: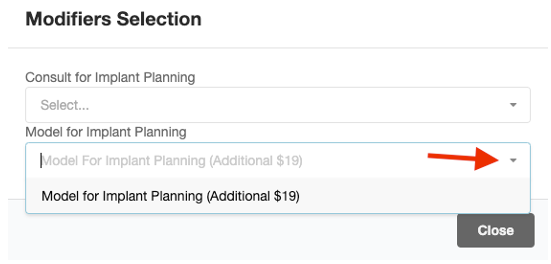 Select the manufacturing destination
Click submit to send the case
Once the case has been sent for design, the turnaround time is 24 hours!
Please email Customer Support at designservices@3shape.com or Chat with us with any additional questions!